It is a bit of a copper buying minefield out there, with dealers and individuals selling their wares. What do you need to look out for and what you need to avoid when buying copper pans?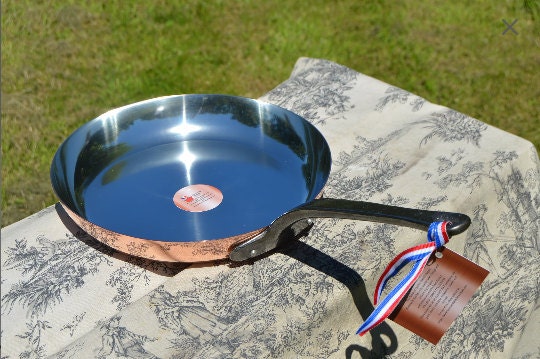 Firstly, ask yourself some questions on what you want from your pans, want you want them to look like and what you would like to spend.
What sort of condition? Copper pans can be sorted by different levels of wear, need of repair and refurbishment.
•New
•Used, lightly with factory tin for instance, and not too much age and wear
•Used and ready for use again - refurbished with new tin for example
•Used and ready to use again after you have cleaned and polished them
•Used needing repair - re-tinning or repairing
Decorative but interesting that cannot be used for cooking (my home has a few of those!)
Then, what do you want to use them for?
•Domestic Light
•Domestic Heavy
•Professional
•Decorative
What era would you like:
•New pans with a guarantee
•Second hand modern
•Vintage
•Antique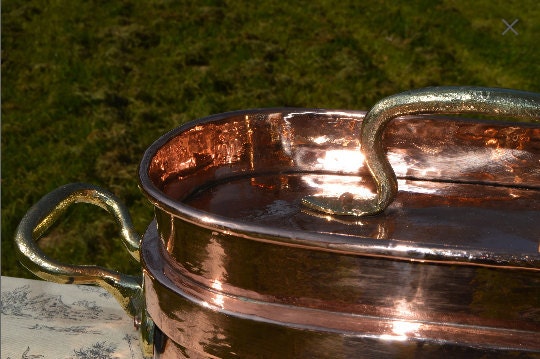 Then ask yourself, what do I want to spend, ballpark figure, including shipping on one of these groups:
•Pan - Saucepan - Casserole
•Set of Graduated Pans
•Saute with or without lid or 'rondeau'
•Fry or Skillet pan
•Daubiere>
•Faitout, Marmite or Bassine a Ragout?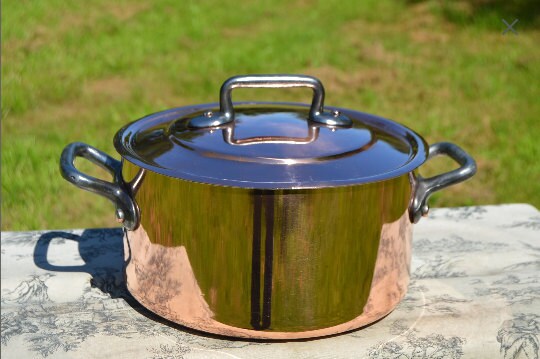 What do you want from your seller?
This is quite a hard question and one that I believe you must answer before you go shopping! You could be paying a small fortune for some copper pans that are not as described, let yourself in for a very big repair bill when photos don't show the 'whole story', have no way to get your money back or a seller that disappears when you ask for information as to where your order is!
Firstly, read their terms and conditions, if they have them!
Do you need them to give you lots information on the product, are you new to copper buying or are you a collector? 
Does your copper seller have any idea of what they are selling, so they can answer questions on the type and era of the copper pan? Ask some questions on thickness or wear - that should give you a fair idea of how knowledgeable they are - this is invaluable for new buyers of copper pans especially vintage and antique pans.
Assess how much you know and think about how much information you are going to want from your seller. This will give you an idea of where you would like to buy - on a platform such as Etsy or eBay, a recognized website from a recognized company, a website from an individual seller, an individual on a listings website, local advertising, a Facebook group - there are some good ones around or Facebook marketplace. 
Generally, the copper dealers should be able to help you a bit more than an individual seller- of course, this is not always the case, as if you go to a specialized Facebook group like Copper Cookware Enthusiasts, you can find all the information you need! 
Etsy and eBay have return policies and arbitration services. On individual websites you may need the help of Paypal or your Credit card provider, Leboncoin and Facebook marketplace can have sellers who really do not have the best interests of the buyer at heart, sold as found etc! However, it is important to be vigilant whatever platform you are using.
Are you confident enough to buy from someone who is selling off an estate without any knowledge of what they are selling? 
Sometimes there are bargains to be had if you are willing to take a chance.
Give your pans a thoroughly good look over, if you see something that needs explaining - ask the question....
It is important to see what has been left out in a description as well as what is in the description. Look for dents and serious scratches. Have they had the pan refurbished? Has it been polished or re-tinned? If so by who? This can be vital - a bad tinning job is as bad as missing tin - it will need to be replaced - black lumps or marks in new tin for instance, is someone else's carbon! You need to know that 100% pure tin has been used, not a solder paste or anything to do with lead.
Are they being a little cagey with the provenance - is there a grey area in the listing that could mean two things? Is it a decorative piece that is made only for show, is the seller trying to make the copper object look older than it is? Are they claiming that it is 18th century when it could be souvenir ware of the 20th century?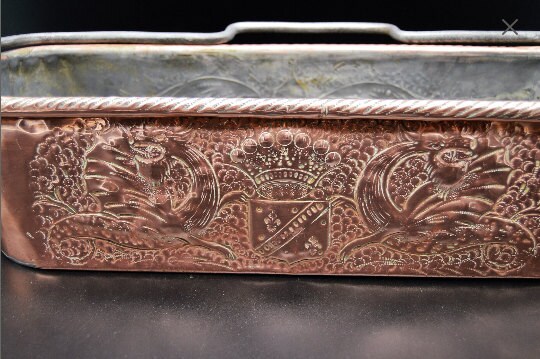 Have the interiors been tested - is the interior silver, tin, nickel or stainless steel? Is the pan solid copper with no tin - is it supposed to be like that? 
Are there patches of copper showing, if so what will the repair bill be? Easy with tin, there are re-tinners in most countries but what about a silver or nickel lining, do you know anyone who will repair these? Damaged stainless steel is a bit of a 'no hoper' unfortunately.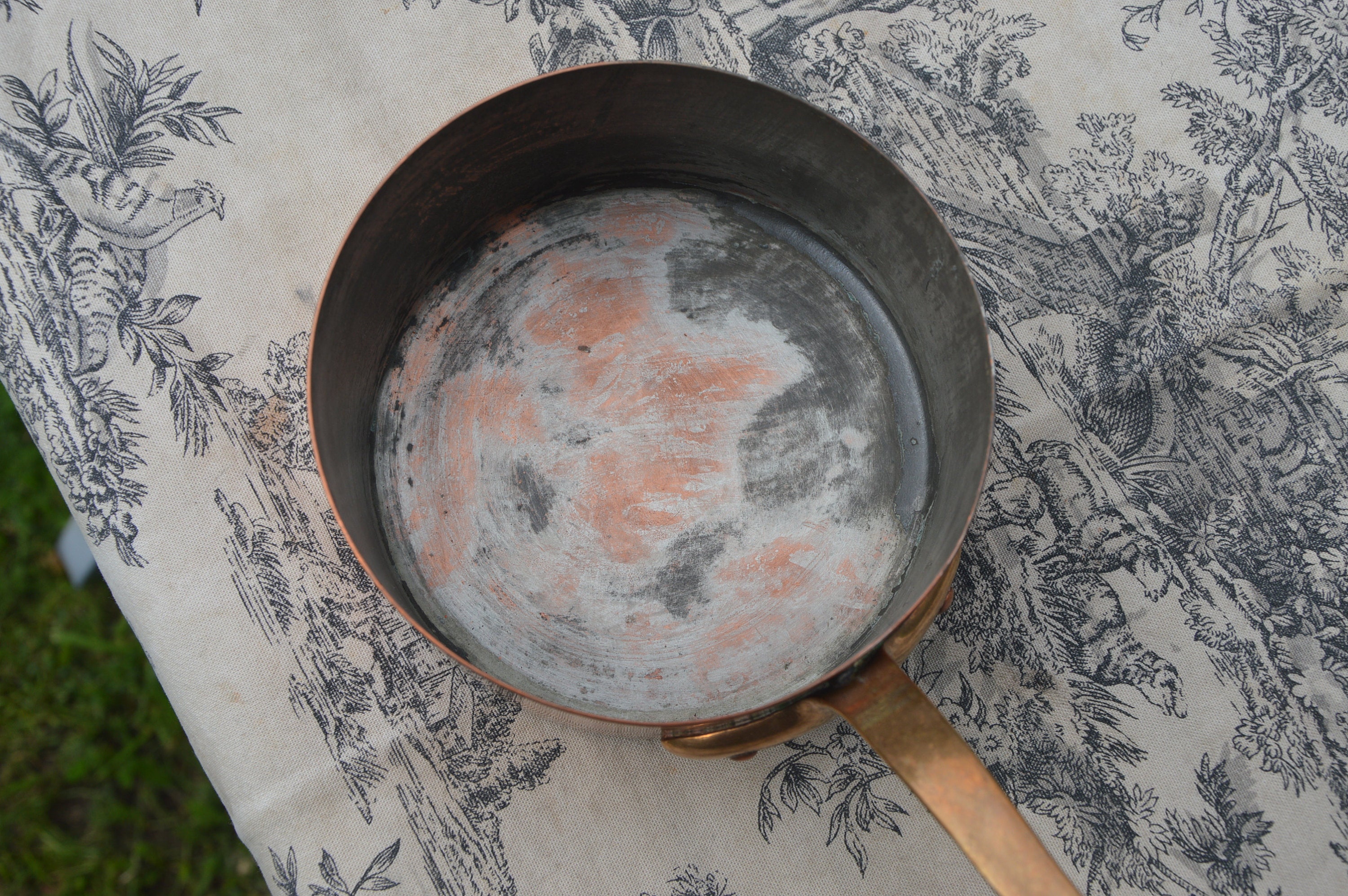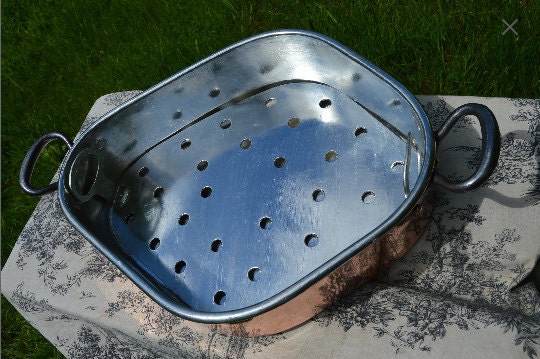 Have the pans been refurbished by an amateur? What is the quality of the workmanship? Some amateur étammeurs tinners do an excellent job. I have seen some excellent work using 100% food grade tin. Personally, I would go for a tinner that has some glowing references and you have seen some of their work. Amateur retinners in France may not be legal - all étammeurs need to be registered, as with most businesses in this country, if they are selling on their wares, this will impact any recourse further should anything go wrong or there is shoddy workmanship.
A good seller will tell you exactly who did the new tin, where they are and when it was done, they need to say if 100% food grade tin was used. If they refuse for what ever reason, personally I would not buy the pan.  
Do they test the interiors of their vintage or antique pans for lead and nickel? (The latter can be mistaken for stainless steel - in my opinion nickel is a better lining - that is for another blog!) 
Do they have a blog, or any sort of information of where they are and how they do what they do?Is there an Instagram or Facebook page, Pinterest or even Twitter - this can give you invaluable information about the seller and an insight to their world.
Any time you are thinking of buying a copper pan, try and get as much information as possible on provenance of the pan itself.
Even if your seller is outside the country of origin, they may have information on where the pan came from. This is not only interesting but can give a real insight into how your pan has been used or abused. If it was a restaurant or Dining Car pan for years it may have Chef's tinning, loads of dinks and dents and need a bit of TLC. If your pan was in a cupboard and never used as it was 'too good to get dirty' then you can be onto a real winner - I do know however, that there are a lot of copper enthusiasts that would more likely go for the bashed Dining Car pan!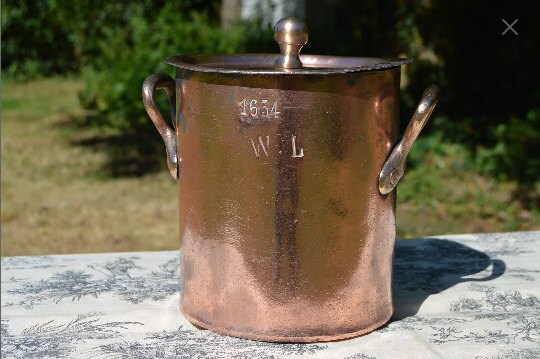 Does the seller offer returns? Help if things go wrong?
Sometimes you may be spending a small fortune on a lovely pan only to find out that it is not as described - not as thick as you were led to believe or that lovely Gaillard, Legry or Dehillerin mark has disappeared. The pan may be lost, stolen or damaged in transit - do they offer insurance or refunds. Will they accept returns? If they are selling within the EU they are obliged to take returns under EU law. Could they leave you high and dry without a pan or your money? 
If you are buying from a dealer in the EU or especially France they will be a registered company. If they don't have a Business number or 'Siret' then they are not legal in France. So, if you do have a problem you are less likely to find a solution.
None of us know all there is to know about copper pans and utensils, their uses and history - that is the great thing about copper cookware, we learn something new every day....