A copper pan is a copper pan, I hear you say - not in the case or a Daubiere - this copper pan is a casserole, a pressure cooker, a saucepan and looks great too!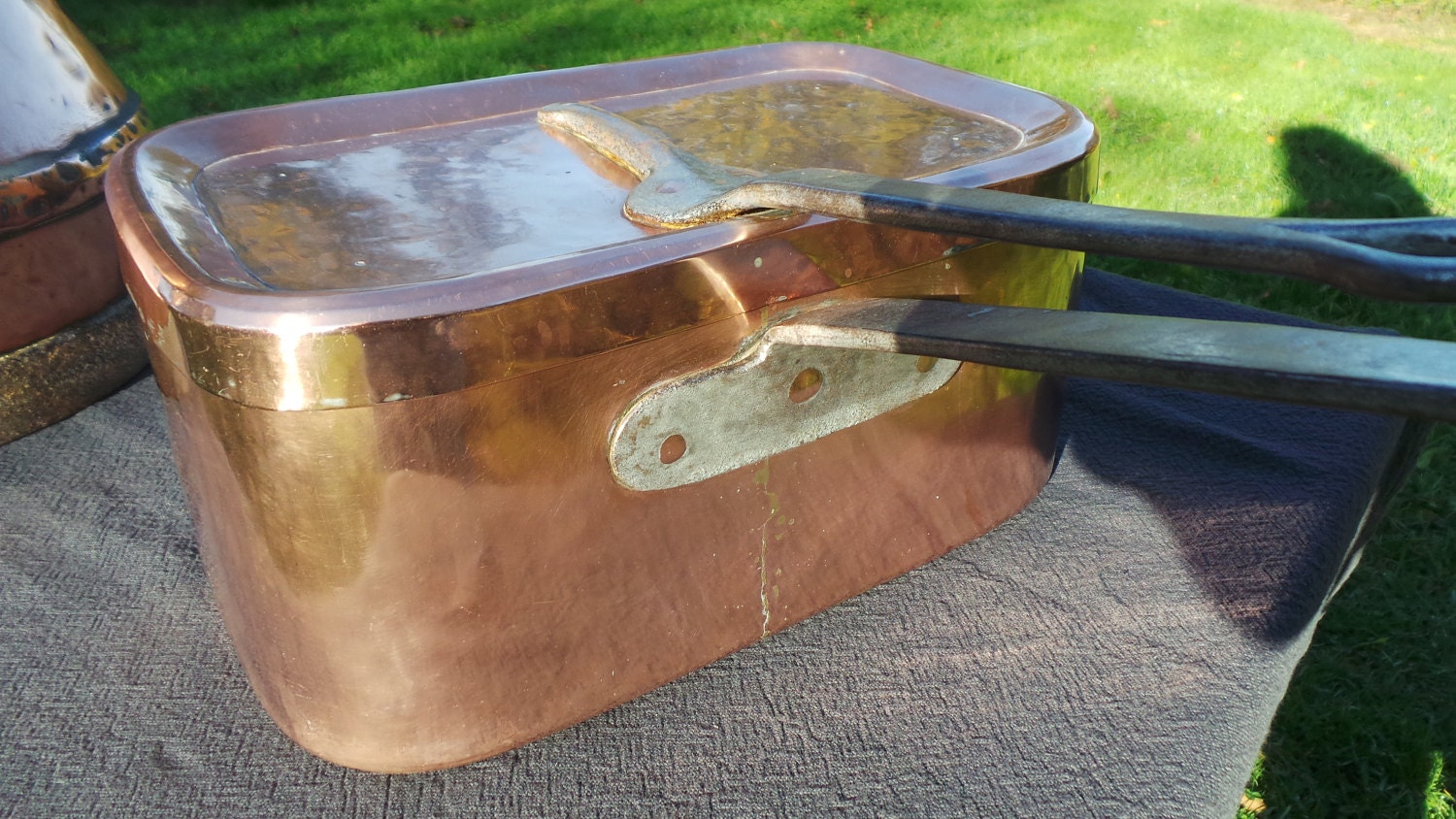 This Daubiere or Braisiere, a smashing old pan, is about 150 years old and can be used today like it was the day it was made. 
This type of pan is an antique pot that is still used today and still doing a fantastic job. This pot was made before the real industrial fabrication and mass  production of copper pans. This is hand made 'fabrication a la main'. It  is  made with separate pieces of copper fixed together in a castellated  fashion. (Pre 1860) There are two sturdy cast iron handles with hand made copper rivets both securely fixed and look gorgeous. 
There are many items like this that are much newer made in the mid to late 20th century (some much later) that use the same manufacturing methods, so identifying classic pans like this can be a little difficult.
They are used for  making duck 'confit', stew (pot au feu) or sitting on a hearth boiling  away, the lid is snug to keep in the heat and the moisture. This big casserole can be  used on all cooking hobs. (Induction with an induction plate) This has real quality and form. This particular pan pictured was made together and has stayed together. The handles are slightly different, we think made by a  different person in the coppersmiths. 
The lid is tight and snug but easy  to remove. the snug lid is something to look out for when buying one of these -  a loose lid will let out too much moisture so your casseroles or confits will dry up.
On the pan pictured the  patina on this piece is exceptional. The  tin has darkened but there is no loss on the body - we think it has  been re tinned in it's life. The tin lining is seasoned and ready to  use.
It has loads of indentations, marks scratches and darkening  in the interior of the pan. This pan has real visual impact. The pan lid  is snug, totally as it should be. Indeed, the total pan is as it should be! 
www.normandykitchencopper.com